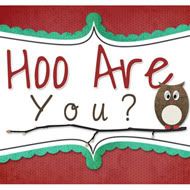 1. Are you married/in a relationship/single? For how long?
Married. It will be 5 years in May!
2. What do you do for a living? Do you enjoy it?
Blessed to be able to stay home with my kids! I love it!! I do have my cosmetology degree, and cut hair from home occasionally! ~if anyone is interested! :) I enjoy that also!
3. In what state do you live? Where were you born and raised?
Currently live in Kansas. Born in Provo, UT..cougar baby! and lived in Texas till I was 13 ~miss it so much! Moved to Wichita, KS in 8th grade, and around a little since then, but now back in KS..not Wichita though. We'll be here for another year of my husband's school, then off to who knows where!
4. Do you have children? If so, how many? If not, do you want them?
Yes! 2 kids ~ Boy 3 1/2. Girl 1 1/2. I do want more, eventually!
5. Who is your favorite blogger to follow and why?
Hmm..I don't have just one favorite honestly, I have a LOT LOT LOT that I follow on reader, and can't say I have ever narrowed it down!