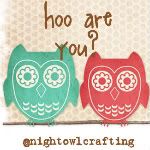 1. Do you wear glasses or contacts, if so for how long?
yes and no. Yes I have them, but no, I don't wear them. I got my first pair back in 6th grade and thought I was so cool.. then my vision corrected itself a bit, so it's not as bad. Mostly I'm suppose to use them for reading and night driving, but I don't really do that either. I should probably my eyes checked again now that I think about it! ;)

2. What was your favorite board game as a kid?
I don't remember. Monopoly probably. Now it is Settler's of Catan, or Ticket to Ride!
3. What is a word that you use all the time?
Hmm.. let me think about what my son uses all the time, maybe that is from me.. "Sheesh!" I guess is one. hehe..it's funny to hear my 3 year old saying it!
4. What is your favorite day of the week?
Sunday I guess. Go to church , then get a fresh start on a new week! I love the feeling of a fresh start!
5. Did you graduate high school from the town you grew up in?
We moved to the town where I graduated from when I was in 8th grade. So I was 13. I don't know if that means I grew up there, or in TX where we lived before. I would claim Texas any day! ;) but I guess I did most of my growing up in my teen years, so I would say yes, I guess.